When you're traveling in Florida, stops along scenic Highway 30A offer lots to see and do. Collectively known as 30A, these laid-back coastal towns offer some fantastic restaurants and activities in this beautiful seaside stretch. Here's a sample and a few of our favorites.
Beaches of 30A Top Things to Do:
20-plus Beaches and State Parks in South Walton
Emerald Coast Pedal Tours
Arnett's Gulfside Trail Rides
Fishing Charters, Sunset Cruises
Canoeing, Snorkeling, Stand-up Paddleboarding, Surfing
Golf Courses and Clubs
Biking and Hiking
Local Shops and Art Galleries
Artists at Gulf Place
30A Farmers Market
Escape Zone 60
Thrills Laser Tag and Arcade
The Repertory Theatre
Surfside Spa
Annual Events and Festivals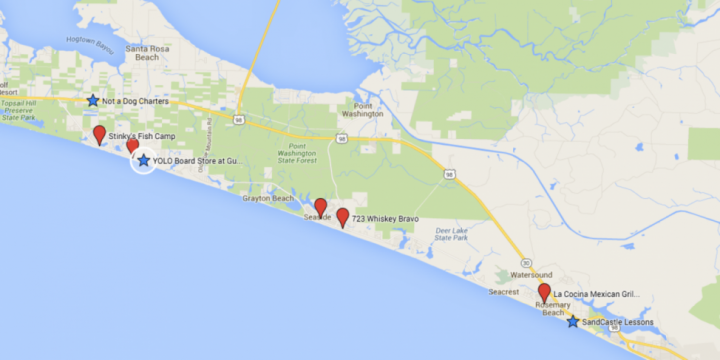 Need to narrow down the list? Here are our favorite attractions and places to eat.
Our Picks: Restaurants & Things To Do on the 30A
Best of 30A Restaurants
Stinky's Fish Camp
Vue on 30A
723 Whiskey Bravo
La Cocina
Great Southern Cafe
5 Best Things To Do Along the 30A
Sandcastle Lessons
Florida Boy Adventures
Not a Dog Charters
30A Surf Camp
Yolo Board
Other Restaurants & Things to Do Along the 30A
Find more family-friendly South Walton vacation activities and attractions on the blog.