Islandwood Condos Unit 104
Next to new Kayak Park! First floor condo short walk to beach. Pet Friendly!
LONG TERM STAYS/SNOWBIRDS: Contact us for special rates for stays of 30 days or more!
We help make the most of your vacation by providing Free Admission (some activities are seasonal) to some of the area's top attractions each and every day! Create exciting memories, have more fun, and truly experience your destination!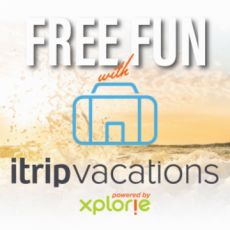 Note to AirBnB Guests with pets: Our properties charge a fee of $150 for up to two pets. Be sure to read any restrictions on size as some properties only allow small pets. Due to the way AirBnB works with our property management system, we must request the fee after booking. If you have any questions, reach out to us.
-SLEEPING ARRANGEMENTS (sleeps 6):
Master bedroom
King Bed
Guest bedroom #2
Queen Bed
In the living room there is a twin trundle bed with two twin beds.
HIGHLIGHTS:
- Full kitchen with refrigerator, stove, microwave, toaster, and Regular & Keurig coffee maker!
- Outdoor Balcony- You can smoke on the balcony but not inside of the unit.
- 65 inch big screen TV in living room for family movie nights
- Don't wait in an office to check-in or get a key! Drive straight to your apartment and enter the front door with an electronic lock code. Prior to your visit, we will send you links to our mobile app with directions and full instructions.
- Washer & dryer located in hallway closet.
- WIFI with high-speed internet
- Smart TV to access basic streaming services and cable.
- Phone charging station
- Beach cart, 2 chairs & umbrella
- Pet toys/bowls
- Computer desk & chair
- Crockpot
- Instant Pot
- Starter supply of coffee and keurig pods
- DVD player
- Some board games and cards
This apartment on Okaloosa Island is the perfect solution for travelers that want an economical alternative to staying directly on the Gulf. Lovingly restored by the owner, this unit welcomes your family with quality amenities including a big screen television in the living room, with high-speed wireless internet. With 2 bedrooms and 2 bathrooms, there is plenty of space for a family of 6. This first floor apartment features a master bedroom with a king bed and television, a second bedroom with a queen bed. Come cook your favorite meals in the kitchen and enjoy your coffee on the back deck. The beach access is a short 5 minute walk from condo. Okaloosa Island offers multiple beach access with free parking, grilling and bathrooms on site. Bring your kayak and launch at the new sound access right next to the condo building.
Need a place that accepts pets? This is the condo for you. We allow up to two pets for a fee. Please note pets when booking so we can collect the fee. We will charge a penalty rate if we find you had a pet and didn't disclose it. Read the agreement for more information.
We welcome transient military and TDY.
Ready for fine dining and nightlife? Fort Walton Beach and Destin are both close by with many amazing dining and entertainment options. Alexa is in the unit as well and can help with any questions.
WINTER GUESTS: If you are interested in staying for 28 days or longer, please message for special monthly rates. Please include your desired start and end date in the message.
NO SMOKING INSIDE ( you can smoke on the outdoor balcony)
House Rules
Reservations made for teenagers or young single groups will not be honored without any accompanying adult staying in the unit at ALL times. We require at least one member of the party to be 25 (twenty-five) years of age. No smoking/no pets without prior authorization. Be respectful of the house and contents - it is someone's home. Respect the neighbors and neighborhood. No parties, events or smoking of any kind.
This property sleeps 6 people!!! If we determine you have more than 6 people, we will charge a fee of $100 per person, per night.
Parking: We have parking for one car in a reserved space. Other cars must park in unmarked spaces.
Check-in time: 4:00 pm
Check-out time: 10:00 am
Our properties come with freshly laundered linens and towels, a starter supply of dish soap, toilet paper, paper towels, trash bags, hair dryers, iron and ironing board, laundry soap and facial tissues; along with a welcome amenity kit of bathroom supplies.
Free Fun Program not valid for stays over 28 days. One ticket per activity per day.
Free Fun Activities Include:
Big Kahuna Water Park
Sea Blaster--Dolphin Cruise
Cattywampus WaterFun / Sunset Cruise
Gulfarium
NOTE: A Limited Damage Waiver fee is included in all bookings in lieu of a deposit. Please contact us for more information.
LONG TERM STAYS/SNOWBIRDS: If you plan to stay more than 30 days, you may be required to have a cleaning every 30 days by our cleaners. The cleaning fee will be added to your booking for each 30 days of your stay after booking. Contact us for more information.
CANCELLATIONS: We will follow the cancel policy you were provided by the booking channel you used. Be sure to read your rental agreement for all of the cancellation terms. Please contact the website from which you made the booking to initiate a refund; or contact us directly.
354 Billfish Ave, 104
Fort Walton Beach
,
FL
32548
Vacation Rentals
To purchase a vacation condo like this one, Cokie Tyler with Corcoran Group
Frequently Asked Questions
CANCELLATION POLICY
In the event that you must cancel your reservation, please be aware that cancellations must occur at least 30 days prior to arrival date to receive a full refund. We will allow a full refund cancel if you cancel within 24 hours of booking your stay, even if you book within 30 days of arrival.  If cancellation occurs between 30 days and 14 days prior to arrival date, guest will receive a 50% refund of the total. GUESTS THAT CANCEL 14 DAYS OR LESS BEFORE ARRIVAL DATE WILL BE CHARGED THE FULL AMOUNT. There will be no refund for early departure unless authorities request mandatory hurricane evacuation, in which case the refund will be pro-rated based on the room rate.
NOTE: We will follow the least resrtictive cancel policy if the site you booked on has one different from above.

VACATION INSURANCE IS STRONGLY RECOMMENDED.  The following are the ONLY reasons we will provide a full refund from the time of booking until arrival date: 1) the government orders travel ban or quarantine. 2) The beaches are ordered closed by the government for more than 24 hours 3) government restricts vacation rental check-ins that affect the arrival date.
FAMILY RENTAL ONLY
Reservations made for teenagers or young single groups will not be honored without any accompanying adult staying in the unit at ALL times. Unless otherwise stated in the listing, we require at least one member of the party to be 25 (twenty-five) years of age unless active duty military, then 21 years of age! No third party bookings without approval!  Any violators will be evicted according to Florida Statute 508.141 with forfeiture of all monies.
HOUSEKEEPING
There is no daily maid service. Linens and towels are included and not to be taken from the unit. An initial setup of trash liners, bathroom paper, and soap are provided. There is a $_CleaningFee_ one time cleaning fee. Additional cleaning fees will be due in the event that cleaning involves the removal of excessive sand.
UTILITIES
No compensation will be given for temporary outage of electricity, gas, water, cable, or telephone service. Outages will be reported immediately and all efforts will be made to have them restored as soon as possible. Please note that you may want to bring a calling card for placing long distance phone calls, as these are restricted.
SLEEPING CAPACITY/DISTURBANCES
Tenant and all other occupants will be required to vacate the premises and forfeit the rental fee and security deposit for any of the following: Occupancy exceeding the sleeping capacity of 6 people, using the premises for any illegal activity, causing damage to the premises rented or to any of the neighboring properties and any other acts which interferes with neighbors' right to quiet enjoyment of their premises.  Additionally, a fee of $100 per person per night for each person above the sleeping capacity of 6 will be due immediately.  A PERSON IS COUNTED REGARDLESS OF AGE!
SECURITY CAMERAS
If security cameras are present at the property, the listing and house rules will disclose this fact.  Security cameras are soley for visual (no audio) monitoring outside the property and are not present inside the property.  Tenant agrees that in outside areas there is no reasonable expectation of privacy and accepts the monitoring of the outside by security camera.  Tenant agrees not to tamper with the security cameras.

POOL, DOCK & PATIO
Tenant hereby acknowledges that the premises they have reserved may include a private or community pool; tenant agrees and acknowledges that the pool can be dangerous area, that the patio can be slippery when wet, and that injury may occur to anyone who is not careful. With full knowledge of the above facts and warnings, the undersigned Tenant accepts and assumes all risks involved to Tenant and all of Tenant's guests in or related to the private pool, and/or patio areas; and will hold Owner and Agent harmless in case of injury or death.  Owners and Agent require Tenant follow all published pool rules, which are available in the Guest Book and in the House Rules provided with the listing. No one should swim alone or allow children to be unattended at any time.  No Diving or climbing on rocks around pool. The gate to the pool must stay closed at all times unless entering or exiting.  Please read  about signs of drowning and realize a drowning person will not scream for help.  NO LIFEGUARD IS PROVIDED.

NO GUEST REPAIRS
Guests are not to service or repair anything on the property without consent of the property manager.  Guests will not call on service professionals  either.  Guest must report all maintenance issues to the property manager for triage and repair.  No reimbursement will be made for any guest expenditures for repairs or maintenance that are unapproved by the property manager.
PETS
If a property is advertised as pet-friendly, the listing will state that.  Pets in those properties are welcome with the payment of a fee to cover the additional costs of cleaning up and profits for the owner.  If the listing does not explicitly say pets are allowed, then pets are not allowed at the property and fines of uyp to $500 will be levied. 
Cleanliness
We take cleanliness seriously, but sometimes we do make mistakes.  When booking this property, you agreed to report any issues with cleanliness within 12 hours of check in.  This property does not come with daily housekeeping services, so after the first 12 hours you accept the property as-is.  Of course, please let us know of any maintenance issues.
Check in and Check out Time
The check in date and time and check out date and time are located in the listing, booking agreement and the check in instructions email.

We reserve the right to charge a minimum of $250 fee for unautorized late checkout.
MAINTENANCE
Please report any maintenance needs for the premises to the us and we will respond as quickly as possible. Refunds may be made at our sole discretion for maintenance issues including, but not limited to heating and air conditioning, appliances, televisions, and stereos.
IMPORTANT: There must be at least one person in the unit that is 25 years of age or older on the check-in date.  You must be 25 years of age or older to book this property.  If there is no person on the reservation and participating in the stay that is 25 years of age or older, we reserve the right to evict all tenants with no refund.

General Rules:

Violation of these rules may result in eviction without refund or additional fees.

This property is located in a building with close neighbors.  Please treat this apartment as if it were your own.

PARKING---IMPORTANT!!!!!!
You must park in the parking area in front of the condo in the space marked 104.  Any other vehicle must be parked in an unmarked spot.  We do not guarantee parking for more thann one car!

1) No parties!!  If you want to have a party, we can help you find an appropriate venue (just give us a call).  Of course, guests are welcome.  Guests should park in the designated area at the entrance to the property and NOT block the driveway.
2) Trash may be placed in the green dumpster at the left of the parking area  Please be sure to take your trash out.  We know you like a clean unit!
3) Please keep noise to normal family activities.
5) No boats, RVs or trailers in parking area.
6) Pets accepted with payment of pet fee!!  We will fine you up to $500 to cover extra cleaning costs if we find evidence of pets and you didn't disclose it to us.  Please report and service animals in advance and be prepared to provide documentation.
7) Any intentional damage to the common areas will be paid by the guest.
8) This unit is no-smoking.  Smoking means anything inhaled that is not prescribed by a doctor.  Smoking inside the unit will result in an additional $300 cleaning fee.  We respect your right to smoke, so please smoke outside on the patio with the doors and windows closed.  Please be respectful of the neighbors.  Be sure to discard all trash.
9) Please do not exceed advertised occupancy.  We count everyone, even babies!  Please see agreement for penalties.
Other homes you might like
Price Per Night: $114
Location: Shalimar
Reviews: 0 Stars
Price Per Night: $227
Location: Fort Walton Beach
Reviews: 0 Stars
Price Per Night: $131
Location: Fort Walton Beach
Reviews: 0 Stars
Book Your Stay
Contact Manager

Toll Free (888) 234-7425